"Green landscapes, quaint rivers, and close to Austria's finest"
Linz is one of the bigger cities in Austria and is located just an hour from both Vienna and Salzburg. Its convenient location provides ample opportunity to see much of Austria and its landscape boasts beautiful mountains and rivers.
We went to Linz to visit a friend and ended up having an amazing time. Austria as a whole is so family friendly and beautiful, so it was a great way to relax for a while. It could be easy to think that there's not a ton to do in Linz, but after exploring with a local we were proved wrong.
Since it's close to every major city, day trips are the way to go if you're based in Linz. Mountains can be found in varying sizes within a short drive, and coffee houses are common whether the town is big or small. Linz also has a great nightlife scene, but it's best to meet up with a local to go out, purely because they know the best places.
Overall, Linz is a great family city with easy access to the rest of Austria. It's a great place to take a family vacation or enjoy a quiet retreat.
$photos_pull = get_posts( array( 'posts_per_page' => -1, 'post_type' => 'essential_grid', 'tax_query' => array( array( 'taxonomy' =>'essential_grid_category', 'field' => 'slug', 'terms' => $title, ) ) ) ); $photos = wp_list_pluck( $photos_pull, 'ID' ); echo do_shortcode('[ess_grid alias="travel_destination_photos" posts='.implode(',', $photos).']'); ?>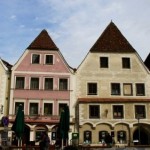 Day Trip to Steyr
Small town with shopping and views
Pöstlingberg
Beautiful church with a view
Schlossmuseum Linz
Castle with museum and artifacts
Lentos Art Museum
Most important modern art museum in Austria
New Cathedral Linz
Roman Catholic cathedral
Day Trip to Vienna
1 hour car ride to the capital
Housing
$0
Food
$128
Transportation
$105
Note: The figures above represent the costs for two people
$posts_pull = get_posts( array( 'posts_per_page' => -1, 'post_type' => 'post', 'tax_query' => array( array( 'taxonomy' =>'category', 'field' => 'slug', 'terms' => $title, ) ) ) ); $posts = wp_list_pluck( $posts_pull, 'ID' ); echo do_shortcode('[ess_grid alias="travel_destination_posts" posts='.implode(',', $posts).']'); ?>
$current = get_the_ID(); $parent = wp_get_post_parent_id($current); $pages = get_pages(array('child_of'=>$parent)); $cities = wp_list_pluck( $pages, 'ID' ); echo do_shortcode('[ess_grid alias="travel_destination_cities" posts='.implode(',', $cities).']'); ?>