"Bridges, university center, and technology hub"
Cork, just an hour away from scenic Killarney and the Dingle peninsula, is a university and working city.The River Lee runs through the city with 22 different bridges atop of it, creating a variety of great places to see the city and an overall continental feel. The 18th-century  St. Anne's Church is a symbol for Cork, and visitors who climb to the top tower are greeted with panoramic views of Cork city.
We were excited to come to Cork for a number of reasons. Many California tech companies like Apple and Google have major offices here, which was a draw to check out the city. Cork is situated near the bottom of Ireland, so we were pleasantly surprised to get off the bus from Killarney and arrive in much warmer weather than further north.
Cork itself is more of a working and university city. This means that there's plenty of options to enjoy the nightlife, but not a ton of things to do during the day. We enjoyed seeing some of the churches and parks that Cork has, but probably wouldn't choose Cork over California for a job base. The Blarney Castle is just outside of Cork city though, and is definitely worth experiencing.
$photos_pull = get_posts( array( 'posts_per_page' => -1, 'post_type' => 'essential_grid', 'tax_query' => array( array( 'taxonomy' =>'essential_grid_category', 'field' => 'slug', 'terms' => $title, ) ) ) ); $photos = wp_list_pluck( $photos_pull, 'ID' ); echo do_shortcode('[ess_grid alias="travel_destination_photos" posts='.implode(',', $photos).']'); ?>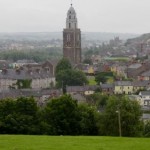 Patrick's Hill
Hill with park and scenic views
Saint Fin Barre's Cathedral
1800's victorian church
English Market
Indoor market with food and trinkets
Fitzgeralds Park
Park with flowers and Shakey bridge
Church of St. Anne
Primary church in Cork with tours
Roundy Bar and Cafe
Bar and cafe with music
Housing
$258
Food
$170
Transportation
$97
Note: The figures above represent the costs for two people
$posts_pull = get_posts( array( 'posts_per_page' => -1, 'post_type' => 'post', 'tax_query' => array( array( 'taxonomy' =>'category', 'field' => 'slug', 'terms' => $title, ) ) ) ); $posts = wp_list_pluck( $posts_pull, 'ID' ); echo do_shortcode('[ess_grid alias="travel_destination_posts" posts='.implode(',', $posts).']'); ?>
$current = get_the_ID(); $parent = wp_get_post_parent_id($current); $pages = get_pages(array('child_of'=>$parent)); $cities = wp_list_pluck( $pages, 'ID' ); echo do_shortcode('[ess_grid alias="travel_destination_cities" posts='.implode(',', $cities).']'); ?>